Article Contribution
Article by Jim Shade
Park Volunteer & Malabar Farm Foundation Board Member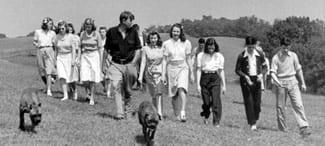 As a young boy growing up on a 300 acre farm near Mt. Gilead, Ohio in Morrow County I was into all things farm related. Dad was a full time farmer whose family had farmed in Morrow County for three previous generations. Mom was raised in Columbus and came to Morrow County as a school teacher who taught English, American Literature and Latin.
For as long as I can remember both of my parents seemed to have a great interest in a place called Malabar Farm and a guy named "Louie" Bromfield. In the late 1940s and early 1950s they would make several trips in the summer to Malabar. This interest seemed to center around Herschel and Frances Hecker, a couple who were close friends of my parents. He was employed by the Soil Conservation Service in Mt. Gilead and they, like my parents were members of the Twin Pines Farm Bureau Council. This group made regular outings in the summer as evidenced by some old movie footage I'm having put on a CED.
Now as to who is Hershel Hecker? He was the newly hired conservation agent referred to in Ellen Bromfield Geld's book, The Heritage. Hecker worked with Max Drake designing the master plan for the restoration of Malabar Farm including the leveling out of mammoth erosion ditches and laying out the contour strips in the very early 1940's.
In just recent years I also learned that Herschel Hecker (Mr. Hecker, please forgive me for telling this) delivered the first package of multi-flora rose bushes to Malabar Farm. At a function in Mt. Gilead, I sat down next to a gentleman who related a story to me that he was visiting Hecker in his office one day and a delivery man brought in a package. Hecker, seeing what it was, asked if he wanted to ride along over to Malabar to deliver these rose bushes that would eliminate ever having to build fences again. Having things on his own farm to do he declined the ride.
Hershel Hecker left Ohio in 1949 to take a job with the Wisconsin Soil Conservation Service. He later moved on to the University of Kentucky and USDA in Washington, DC prior to his passing in 1992.
My first trip to Malabar, that I remember anyway, was in 1950 when I was seven years old. Dad had just gotten a new golden brown 1950 Ford car which is a bench mark to know what year it was. I still remember Malabar Farm with the vivid amazement of a seven year old boy, like it was only a few years ago. The beautiful house and barns, the cattle, the little "Fergie" tractors everywhere you looked pulling wagons loaded with visitors out through the fields, a big gruff voiced man (yes "Louie") talking like a preacher but the subject matter was agriculture and not religion. Most of all I remember those beautiful (to me anyway!) loveable and very rambunctious boxer dogs. I just couldn't pet them enough!
I accompanied my parents to Malabar a few times after that initial visit. Only one has any significant lasting memories. After a long hot day of touring the fields and most everyone else had left, my parents and maybe a dozen other people congregated on the lawn by the "Big House" front door chatting with Louie. Like any typical youngster, I became tired and restless and wanted to go home. After repeated requests to leave and told by Dad to hush up, I asked once too often and Dad responded with a "whap" on the backside. Whether this was my last childhood visit to Malabar Farm I don't really remember.
I do know that Bromfield and Malabar had a major influence on things at home with my parents. My mother, who was an avid reader, had a large collection of Bromfield's books and she thought of him as a great author. My Dad incorporated many Bromfield/Malabar concepts in our home farm. We had Ferguson tractors, a boxer dog, mostly grassland farming, birds-foot trefoil grass and much to the chagrin of our neighbors….multi-flora rose bushes.
As I neared retirement in 2004, I read something in a magazine about Malabar Farm now being a State Park and that they needed volunteers. That prompted my wife and me to take a drive there to and see what the place was now like. It was certainly a much quieter environment than I had known from my childhood days but still a very beautiful place that awoke some very good memories of times past.